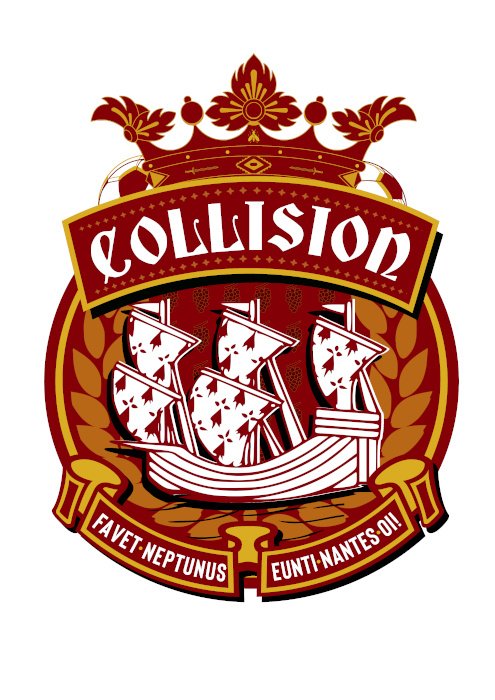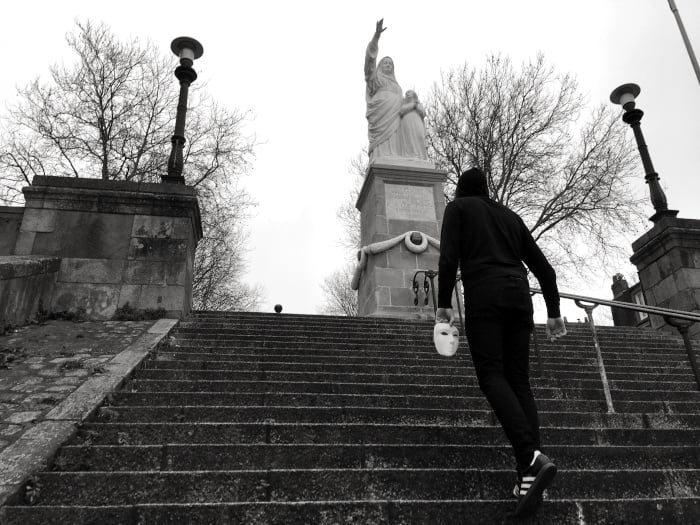 Collision, groupe de punk / Oi nantais formé fin 2018 qui a sorti une démo K7 auto-produite en 2019, puis un 7″ 2 titres et un album sur UVPR respectivement en 2020 et 2021. Je ne peux pas t'en dire plus puisque le concept du groupe est de rester anonyme et secret!
Avec un EP et un Album en 1 an, vous avez été plutôt prolifique dans cette période qui voit pourtant pas mal de groupe stagner faute de locaux de repete ou de concerts. Vous avez des plans avec Pierre Jean Chalencon pour vous réunir malgré tout ?
Héhé, peut-être même que ce bon Pierre Jean fait partie du groupe, qui sait? En vrai on eu de la chance; la plupart des morceaux étaient prêts avant l'épidémie et on a pu faire quelques répètes et enregistrer l'album l'été dernier entre les deux confinements. Ça s'est plutôt pas mal goupillé.
Votre première production était une k7, puis un 7′, maintenant l'album, si on suit votre croissance, bientôt un DVD live ?
Le DVD live est prévu seulement pour 2023, en attendant on bosse sur le laser disc.
Le côté power pop, melodique de Collision apporte vraiment un petit coup de fraicheur sur la scène actuelle. Vos influences sont assez larges non ?
Merci, j'aime qu'on me dise que je suis frais malgré mes 51 bougies. En effet nos influences sont larges et se ressentent, je pense, sur le disque. La power pop en fait effectivement partie mais outre le punk et la Oi, on peut aussi parler de post punk et de cold wave, des styles qui nous ont pas mal accompagnés et influencés sur ce projet.
On sent vraiment de la noirceurs dans vos textes, presque de la tristesse. Des textes entre Camera Silens, Nestor Burma ou Bukowski. D'ou vient cette melancolie persistante dans l'album ?
Tes références me plaisent, il y a en effet un peu de tout ça, du réalisme triste, du roman noir, de la mélancolie, le tout mélangé à la froideur du béton (et au torse velu de Guy Marchand bien sur). Je ne sais pas vraiment d'où ça vient, on doit surement être tous un peu neurasthéniques et fatalistes dans le groupe j'imagine!
Justement, pour parler des textes, vous êtes quand même assez loin des sujets classiques « punk / oi », comment pouvez vous expliquer ça ?
C'est encore une fois compliqué à expliquer, ça collait naturellement au style de musique qu'on composait, la musique nourrissait les textes et inversement. Le chant en français y est aussi pour beaucoup, ce genre de texte nous paraissait plus évident dans notre langue naturelle.
Sur vos clips ou dans votre promo, vous êtes masqués, pourquoi ?
Disons qu'on avait anticipé la pandémie! Plus sérieusement, on aimait bien l'idée d'être jugés seulement sur notre musique sans qu'on sache de quelle scène on vient, dans quels groupes on a joué et avec qui on traine. De plus, on trouvait que visuellement ça ajoutait un truc qui collait à la musique qu'on voulait faire.
Bon et sinon à Nantes c'est comment en ce moment ? Quels sont vos liens avec votre ville ? (La scène rock, le foot, tout ça tout ça)
Malheureusement c'est la même chose à Nantes que dans toutes les autres villes en ce moment: MORT. Plus de concerts, plus de FC Nantes, rien! On habite tous à Nantes ou ses alentours et on est évidemment très liés à cette ville et à sa scène musicale. Au vu de la réponse à la question précédente, tu comprendras pourquoi je n'en dirai pas plus.
Si vous deviez choisir une seule de ces 3 collisions qui sont rentrés dans l'histoire, laquelle ce serait, et pourquoi ?
1/ Ian Stuart et l'arbre
2/ Diana et le pont
3/ Le ballon du penalty de Sibierski à la 90e avec les filets, qui donnera la victoire à Nantes en finale de la coupe de France contre Calais en 2000.
Sans hésiter la 3, c'est pas le plus grand fait d'armes du FC Nantes mais ce genre de penalty litigieux marque les mémoires et reste dans la légende!
Merci à vous, un dernier mot?
Merci à toi pour cette chouette interview, en espérant te croiser un de ces jours à un concert! (2028 au mieux?)
Welcome and thank you for your availability! How are you experiencing these current situations? An almost total change in habits and routines, I suppose. How was adaptation to live a pandemic?
On va dire que ça fait 4 mois qu'on a pas dû faire de musique. Pas de concerts, pas d'échéances donc moins de motivation.
Sinon je béni le premier confinement en France en avril dernier, ça m'a permis de composer les deux tiers des morceaux qui figurent sur l'album qui vient de sortir sur UVPR le 10 avril "Sur les trottoirs".
D'un point de vue plus personnel, je n'ai toujours pas divorcé et je n'ai pas tué mes enfants, je m'en sors plutôt pas mal non ?
But, let us stop and start from the beginning, your beginning. How was the whole journey that brought you here?
C'était en … 2018 je crois. Un lundi, oui un lundi. Il était environ 9 heures du matin, le crachin breton fouettait légèrement mon visage, la circulation se faisait dense. Et là une illumination, il fallait que je monte Collision. Rapidement j'ai fredonné et enregistré quelques matrices pour ce qui seraient les morceaux de la démo.
J'ai décroché mon téléphone à midi et appelé tout ce que la ville comptait de musiciens talentueux, j'ai bien sûr pris les meilleurs. A 20h Collision était né, son line up défini et les masques commandés.
That hot and full sound that you have in "Démo", from 2019, reminds us of the 80s, right? There is something in your music that I find fantastic: the ability it has to please the punks, but at the same time it has almost pop melodic lines ("Le Foot", for example). Is this multitude of sounds showing all of your influences?
A mon avis, le côté 80, ça vient de l'enregistrement chaotique de la démo !
Toutefois, c'est vrai qu'on partait d'un cahier des charges plutôt simple: un combo Camera Silens + West side boys + Evil conduct + Vanilla muffins.
A coté de ça je suis un fan hardcore de Morrissey. J'aime bien la oi! Mélodique comme Cock Sparrer avec un chant travaillé. En ce moment la oi! est plutôt en mode bourrin et ce contre pied m'excitait.
There is a classic twist to your music. And I say it as something positive! The idea of a revival, in Punk Oi! is it something you are aware of? How do you see this growing up in bands recovering sounds, tones?
Tout cela reste très cyclique. En général un groupe va relancer une mode , genre Giuda avec le glam et puis on passe à autre chose queqlues années après. Un autre exemple, en France avec Rixe qui a justement relancé cette mode de la oi! brute et viscérale.
Avec Collision on ne peut pas nier qu'on suit aussi des tendances. On écoute pas mal de post punk ou de coldwave. Tout cela se répercute naturellement dans ce qu'on fait avec beaucoup de chorus dans notre son.
Le webzine "Mass movment" a évoqué Blitz en parlant de Collision. Ca me plait assez !
Does the use of the French language – like many other bands in the Hardcore Punk scene – result from an option, a necessity? Still, it is more than approved.
Pour ce projet, cela sonnait comme une évidence. C'est tellement plus intéressant de composer dans sa langue natale. Tu te mets plus à nu mais franchement c'est un super exercice. J'aurais du mal à revenir sur des compos en Anglais aujourd'hui.
From February 2019 to April 2020 there was no record edition on your part. More than a year without Collision. What is the reason for this? And then, "Immortels", superb!
Parce que notre stratégie marketing est implacable !
A little along the lines of musical inspiration, where does your lyrical inspiration come from? A track like "Immorteles" (fucking hymn), for example. Who are the immortals?
J'aime les ambiances mélancoliques et je dois le dire, je suis un peu misanthrope. Tu vois cette atmosphère qui règne dans "Voyage au bout de la nuit " de Céline, c'est un peu ça, désabusé mais aussi amusé. Alors, mes paroles en règle génrale ne respirent pas la joie de vivre.
Y'a vraiment un mec dont j'adore les paroles, c'est Thiéfaine. Bashung aussi. D'ailleurs, pour les Français qui connaissent, ils saisiront le clin d'oeil dans "Immortels".
En gros nous sommes tous immortels, nous façonnons le monde d'une façon ou d'une autre,. Avec la musique c'est double dose d'immortalité !
Nantes, your origin. How is the Hardcore Punk scene in Nantes? I have had the opportunity to speak with other Gallic bands (Youth Avoiders, Syndrome 81, Nightwatchers) and they are all different. How do you "justify" such? Ahahah
Nantes est une ville plutôt hardcore historiquement : Right for life, Tromatized Youth, Raw justice, Lasting Values… Côté punk, il faut plutôt aller voir à Rennes. Après il y a quand même The Headliners que je trouve vraiment excellents !Mais oui il y a une grand diversité de styles dans les groupes bretons, c'est plutôt bien non ?
France has always had an immense tradition in Punk Oi! To what do you think this so extensive affiliation is due to a sound that, whether we like it or not, has such strong affiliations?
C'est très difficile à dire. L'étiquette "Chaos en France" nous colle à la peau.
J'ai adoré les Trotskids ou les Collabos je dois dire.
Explain the masks to me, please. I love the fact that you will use them, which are an integral part of the band's image, but I would like to know if there is a complex idea behind them or if you woke up one day and decided to put on a mask! Ahahah
J'aime beaucoup le concept Death in June, MF Doom ou Klub des loosers en France.
Je voulais être jugé sur la musique et taire nos origines et les différents groupes dans lesquels on a pu joué avant. En plus les gens ne spouçonnent pas que j'ai déjà 54 ans.
"Immortels" came out in April 2020, when Covid was starting to emerge and wreak havoc. The launch was already planned and you decided to go ahead or was it unexpected? How was it, realizing that promoting it would be very difficult? Or did you get to do any promotional action?
La machine était déjà lancée ! Et puis encore une fois tout cela repose sur un plan marketing extrêmement bien huilé. En décembre 2019, on constate la flambée épidémique en Chine et on se dit "Bingo, faut y aller, ça va arriver en avril chez nous". Les masques plus le titre "immortels", visionnaire non ?
Ce qui est un peu fou dans cette histoire, c'est que le groupe a 3 ans et on a pas joué une seule fois; On aurait dû jouer en juin 2020 mais bon… On ne désespère pas et on a hâte de défendre l'album sur scène.
We are going on a little more than a year of pandemic (more or less). How has the French population lived, the pandemic? Do you believe that we will come out stronger, as a Society, from this? In Portugal, for example, this situation has shown the importance of Culture, although on the Government's side, it has not been felt, the way it should.
Franchement j'en sais rien, j'ai pas l'impression qu'on va sortir grandi de tout ça. On va surtout en sortir très déprimés ,et obèses accessoirement.
Boire une pinte en terrasse paraît être un tel luxe aujourd'hui, c'est fou.
Bon tu vois, la culture subsiste quand même à travers les disques qui continuent à sortir, mais c'est diffcile.
En France , contrairement à vous, on en voit pas le bout.
And Collision, how will they live in the post-Covid? There were plans for something more, I suppose.Will they be put into practice or has this situation changed your course?
Notre mission sur cette planète prendra fin. Nous ressortirons à la prochaine crise majeure.
Once again, thank you very much for your availability and patience. I am aware that I exaggerated the amount of questions ahahah a strong hug from Portugal! Strength and Punk!